Use Cases
Use Cases
Dialysis Machine
We have a proven track record of supplying disposable products such as blood circuits and flow control equipment specifically designed for dialysis machine control. Our blood circuits consist of fluid contact components, including O-rings and check valves, which are manufactured within cleanroom facilities. Furthermore, we deliver high-precision pressure regulators for dialysis machines, and we are currently developing resin pressure regulators aimed at achieving further cost reduction and weight reduction.
Dialysis Machine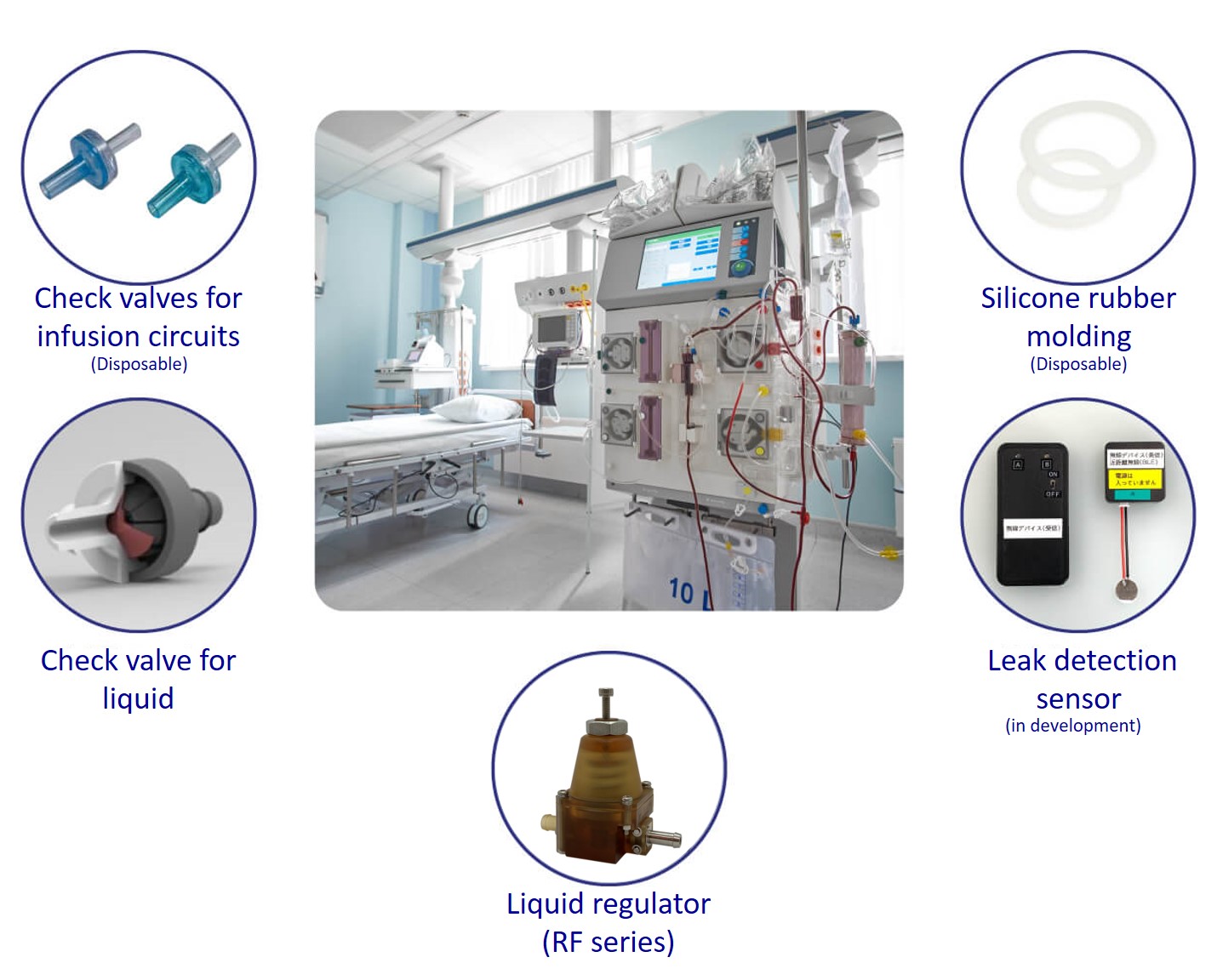 Oxygen Concentrator
Our pressure relief valves, check valves, and flow control valves have a proven track record of adoption in oxygen concentrators. We also offer integrated pressure flow control valves and UNIT components that combine control and peripheral parts. Additionally, we are developing mass flow controllers with sensors and circuit boards integrated into the control unit.
Oxygen Concentrator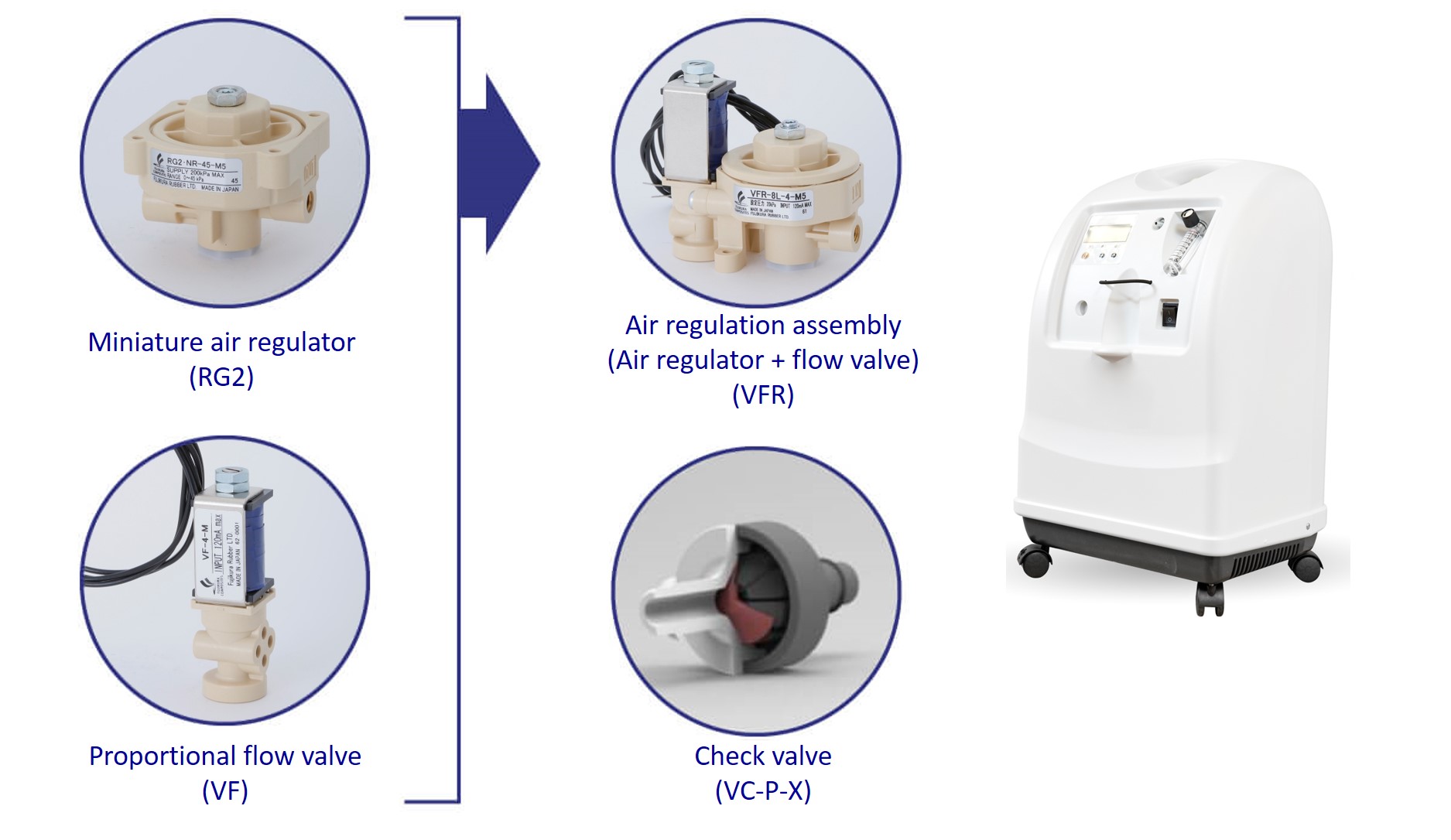 Ventilator
Our small pressure relief valves and check valves have been widely adopted in the application of ventilators. These valves, despite their compact size, excel in flow and pressure characteristics and do not require the use of grease in the gas-contacting areas. Additionally, we offer user-friendly pressure relief valves equipped with push-lock knobs for added convenience.
Ventilator

Insufflator
In the application of Insufflator (Artificial pneumoperitoneum devices), there is a proven track record of adopting electric-pneumatic regulators and small pressure regulator for pressure control to maintain intra-abdominal pressure.
Our pressure regulators are specifically designed for precise control of insufflation, which is essential in laparoscopic surgery. We have gained widespread adoption among many domestic customers for this purpose.
Building upon these achievements, we are committed to meeting further demands such as enhanced precision control and miniaturization.
Insufflator

Intravenous Drip
In the application of intravenous infusion, where high levels of human safety are demanded, there is a proven track record of adopting silicone rubber products produced in cleanroom environments, as well as check valves used in infusion circuits.
In addition to offering material suggestions to meet various requirements, we leverage our expertise in Liquid Injection Molding (LIM) to provide composite technologies such as rubber and resin insert molding or integrated molding. These capabilities allow us to propose advanced solutions that combine the strengths of rubber and resin materials.
Intravenous Drip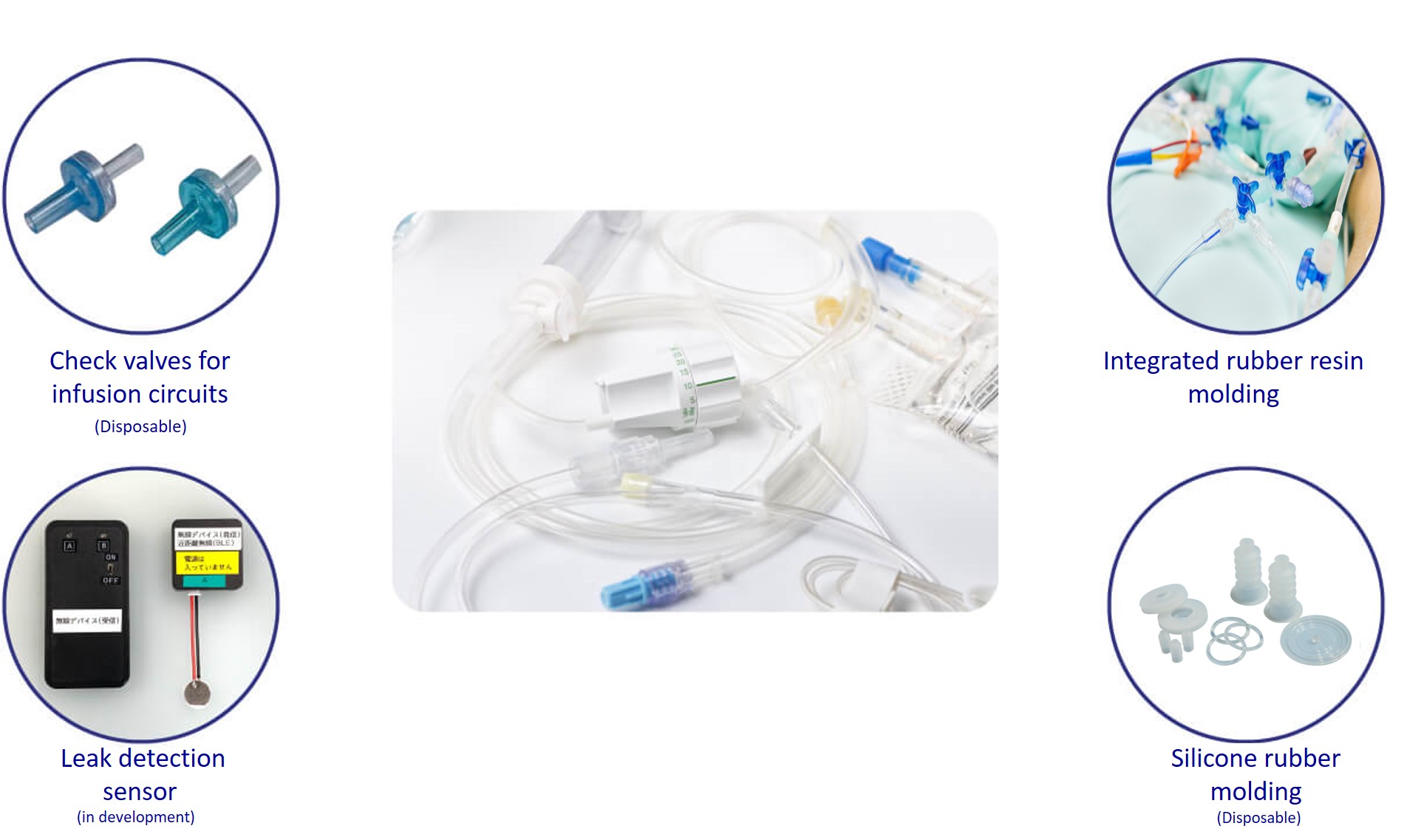 Analytical Instruments
We have successfully implemented small pressure relief valves, relief valves, and check valves in analytical instruments. Our products meet the requirements for miniaturization and precise control in these instruments. Additionally, we offer customization options to cater to various analytical applications with different fluid flows, ensuring excellent sealing performance and durability.
Analytical Instrument

Regenerative Medicine and Biopharmaceuticals
We supply silicone rubber components for single-use products used in the cell culture process of regenerative medicine and the manufacturing process of bio-pharmaceuticals. Leveraging our proven composite technologies across various industries, we are also developing our own original products, including the assembly of single-use circuit components and connectors that integrate rubber and resin, in addition to silicone rubber components.
Others
Our dedicated development team utilizes composite technology, a core expertise of our company, to integrate rubber with other materials. We have established proprietary technologies such as liquid detection sensors, CFRP processing, and surface treatment. By leveraging the unique characteristics of these technologies, we are able to provide tailored solutions and support in the development of cutting-edge medical devices, addressing your specific needs and challenges.